Branding & Identity
Product Design
Creative Direction
Graphic Design
Social Media Management
Sales & Marketing
Product Design – Case Study
Sports Stats Management System
I've been involved in developing Calisthenics Canada, a Non-for-profit organization that is building the Federation for the sport of Calisthenics. All the way from idea to inception and everything from the branding, identity, website development, social media content, etc. has been on my plate and it's a pretty intimate project for me. One of the biggest challenges we have encountered in building a new sport is the lack of a system to track stats in competitions and rank athletes.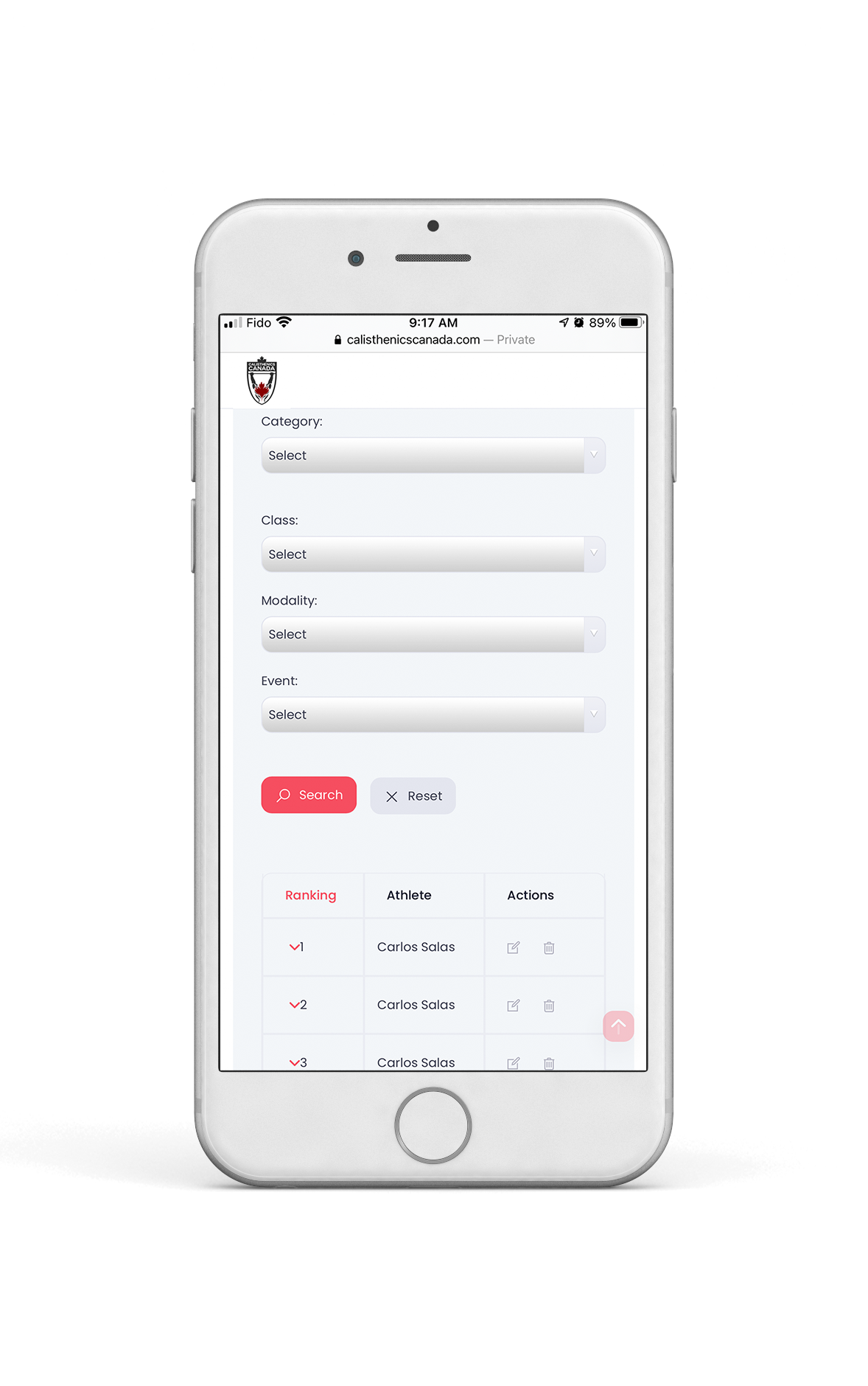 We started from scratch and considered ease of use for inputting competition results, front-facing interface to allow stats and ranks to be available to the public and also the scalability of the system once we have 1000's of athletes across the country competing. I designed and directed the creation of a custom content management system in our existing site that allows us to track competitions, sign athletes up, manage profiles, see their stats and historical ranks, sort the different modalities and types of competitions and ultimately become the hub for how we track their performance over the years.
How I can help take your next project to new heights
Design
With intention based on the latest trends and more than 10 years of experience
Creative
Strategies intended to work in today's world while being flexible enough to evolve
Development
Of ideas and concepts for impact and real world usage
Marketing
Experience with start ups that have taught me invaluable lessons
Entrepreneurial
Mindset with a hunger for learning and growing
Ever since I can remember, I've been making things. I've been fascinated with the idea of creating something from nothing and making a vision into reality. From art classes throughout all my schooling to finishing a Bachelor in Environmental Design at OCAD University in Toronto, design and tech have been part of my life.
I was fortunate to also earn the opportunity to do a semester at OTIS College in Los Angeles, California, that solidified my passion for creating. I always wanted to be an Architect but never limited myself and discovered that Graphic Design, Web Development and Illustration were areas that I grew to love.
Jan. 2020 - Now
Graphic Designer & Project Coordinator at Royal LePage Signature Realty
Jul. 2018 - Sept. 2019
Community Manager at RYU Apparel
Jan. 2015 - Apr. 2018
Brand Developer & Marketing Manager at Body By Chosen
Jun. 2012 - Jan. 2015
Graphic Designer & Project Manager at VZion Designs